Searching for the best castle hotels in Ireland? Ready to immerse yourself in Irish heritage, residing within medieval architecture surrounded by the idyllic Irish countryside?
Well then, let's jump right into a world of luxury and history! I'll be your guide through some of the most remarkable castle hotels across this stunning landscape. From charming historical sites perched on scenic cliffs overlooking majestic seas or nestled deep in lush landscapes. These places offer more than just luxurious accommodation – they're gateways to unique experiences you'll never forget!
Here begins our trek across verdant valleys and meandering country lanes, where we'll uncover fairytale-esque turrets rising from mists; imagine waking up as royalty – sounds brilliant doesn't it?
We've castles aplenty – whether you're staying close to Dublin or wandering west near Cork or Donegal, there's certainly something for you.
So now tell me, which enchanted corner of Ireland will we explore first?
Disclosure: We partake in select partnerships, enabling us to benefit from some purchases you make via our provided links. This comes at no extra charge to you, and we value your continued patronage! 👏😀 Accommodation prices and availability may vary. Some options may not be available for your chosen dates. Thanks for your understanding and support! 🌟🙌
💁‍♀️ In a Hurry? My Top Picks for Best Castle Hotels in Ireland
| Best Castle Hotels in Ireland | Hotel Name |
| --- | --- |
| Best Historic Experience | Luttrellstown Castle Resort |
| Best for Group Events | Blackwater Castle |
| | |
| Best Authentic 12th Century Stay | Turin Castle (self catering venue) |
| Unique Treasure from the Past | Cloonacauneen Castle |
Discover the Ultimate Fairytale Escape: My Top Picks for Castle Hotels in Ireland!
Luttrellstown Castle Resort
⭐️ Rating: 9.2/10 | 📍 Location: Dublin City Centre | 👉 View on Booking.com
Luttrellstown Castle Resort is an opulent castle hotel in Castleknock, a stunning emblem of Ireland's rich history and elegance. Set within a vast 560-acre estate, this privately owned marvel offers exclusivity with its ornate rooms, splendid library, grand ballrooms, and meticulously maintained lawns. The castle not only offers a regal stay but also boasts an 18-hole championship golf course, captivating walled gardens, serene walking trails, and the age-old sport of falconry.
During my stay at Luttrellstown, I felt like I had travelled back to an era of knights and royalty. The lush green grounds whispered stories of the past, and the castle's grandeur was a visual feast. My room, elegantly appointed, overlooking the manicured lawns. The library was a trove of classic literature, and it was there I spent a quiet afternoon, engrossed in a tale by Yeats. At sunset, I indulged in a game of golf, taking in the breathtaking views of the estate. But what truly made my stay unforgettable? It was the afternoon tea served in the grand ballroom, a symphony of flavours that made me appreciate the artistry of the Irish culinary scene. Can you imagine sipping on the finest brew, surrounded by such regal splendour?
You deserve to immerse yourself in the magical world of Luttrellstown Castle Resort. The history, luxury, and allure of this castle hotel await your discovery, promising an unforgettable experience steeped in Irish grandeur.
The hotel is close to: Kilmainham Gaol Museum, Experience Glasnevin – Ireland's National Cemetery, Dublin Falconry, and Richmond Barracks.
This hotel is an excellent choice for Couples seeking a romantic getaway, history enthusiasts, golf lovers, and families wanting a luxurious experience.
Available Facilities: 18-hole championship golf course, walled gardens, walking trails, falconry, and complimentary high-speed Wi-Fi.
Review from a Guest: "We had the most memorable, magical day and everything was perfect. The beautiful grounds, delicious food and wine, and the stunning castle and rooms were all noticed by our guests." – Niamh, Dublin, Ireland.
Blackwater Castle
⭐️ Rating: 9.2/10 | 📍 Location: Castletownroche, Ireland | 👉 View on Booking.com
Blackwater Castle offers a rare blend of history and luxury, nestled along the scenic River Awbeg in Castletownroche. Celebrated as one of Ireland's best castle hotels, it promises a realm where history, heritage, and nature converge. Step inside its twelfth-century walls and discover beautifully appointed suites, enchanting reception rooms, and the thrill of outdoor activities like zip-lining and fly fishing.

My stay at Blackwater Castle was the stuff of dreams. Wandering the castle grounds, I could almost hear the whispers of history echoing through its ancient walls. From my suite, the view of the River Awbeg was simply breathtaking. The activities offered, like zip-lining across the estate and fly fishing in the serene waters, were invigorating and truly unique. The courtyard accommodation, where I mingled with other guests, felt like stepping back in time, with all the modern comforts. The highlight? The evening historical tour delved deep into the castle's rich past. The sense of timelessness, combined with luxurious comfort, made my stay truly unforgettable. Can you imagine yourself unwinding here after a day of adventure?
Find out more and indulge in the majesty of Blackwater Castle. Dive deep into a world where time seems to stand still and every corner holds a story waiting to be discovered.
The hotel is close to: Doneraile Wildlife Park, Doneraile Court, Bridgetown Priory, and Anne's Grove Gardens.
This hotel is an excellent choice for History enthusiasts, nature lovers, and those seeking a luxurious retreat in a castle setting.
Available Facilities: Free parking, Bar/Lounge, Kitchenette, Banquet room, and Meeting rooms.
Review from a Guest: "What a wonderful place it is too. It is a magical place to stay, whether with friends or family or a wedding, whatever the occasion." – Noel, Sheffield, England.
Turin Castle (self catering venue)
⭐️ Rating: 5/5 | 📍 Location: Kilmaine, County Mayo, Ireland | 👉 View on Website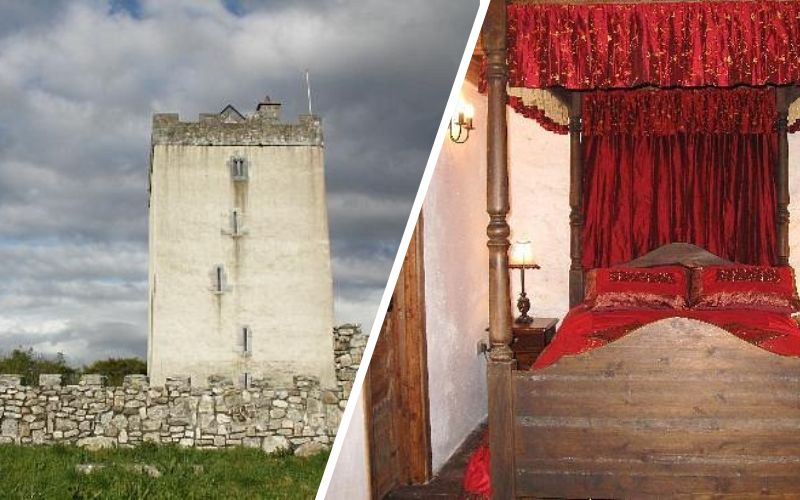 Turin Castle, located in the heart of Kilmaine, County Mayo, stands as one of the best castle venues in Ireland. An authentic experience is ensured in this castle with a contemporary touch. From its rich history to its luxurious amenities like free high-speed WiFi, archery, and horseback riding, guests can experience the old-world charm intertwined with modern luxury.
Ever felt the thrill of sleeping in a castle that's centuries old? That's precisely what I felt at Turin Castle. My room, was everything one could hope for. But the views from the top of the castle? Simply breathtaking! The historic charm, coupled with the amenities, offered a perfect blend of the past and present. And oh, the fun chats I had with the hosts, Marnie & Brendan! Their insightful tour, laced with bits of history and fun anecdotes, truly added depth to my stay. The castle grounds, with its tranquillity and panoramic views of the countryside, felt straight out of a fairy tale. Ever wondered how it feels to be royalty, even if just for a night?
Don't just take my word for it; experience the magic of Turin Castle for yourself. Every corner whispers tales of the past, beckoning you to create memories of your own.
The venue is close to Ross Errily Friary, Pyramid Restaurant, and Feartagar Castle.
This venue is an excellent choice for History enthusiasts, couples seeking a romantic getaway, and families looking for a unique experience.
Available Facilities: Free High-Speed Internet, Archery and horseback Riding available nearby, and Secured parking.
Review from a Guest: "Awesome experience! My family and I thoroughly enjoyed every moment at Turin, a perfect blend of historical charm and modern comfort." – 951ccooper, Austin, Texas.
Cloonacauneen Castle
⭐️ Rating: 4.0/5 | 📍 Location: Claregalway, County Galway | 👉 View on Booking.com
Cloonacauneen Castle is a breathtaking 15th-century Norman gem, located just a stone's throw from the bustling Galway city. As one of the best castle hotels in Ireland, it offers an enchanting escape into idyllic countryside settings. This castle stands out not just for its architectural magnificence but also for its exemplary service and diverse offerings ranging from grand weddings to intimate A la Carte dining experiences.
When I visited Cloonacauneen Castle, I was instantly transported back to the 15th century, all while enjoying the comforts of modern luxury. The walls of this castle have seen centuries, and you can almost hear their whispered stories. I spent my evening at the bar, sipping on a drink, and chatting with the local rugby team. The electric blanket in my room was a warm surprise, contrasting perfectly with the medieval ambience of the room. One evening, as the sun cast its golden hue over the castle, I dined on a sumptuous baked salmon – an absolute delight. And, oh, the tales of how uninvited guests were treated? Absolutely riveting!
Cloonacauneen Castle is one of those places you have to experience to truly understand its magic. Dive into history, indulge in gourmet meals, and revel in genuine Irish hospitality. What are you waiting for? This castle beckons with its timeless charm and luxurious allure.
The hotel is close to Trad on the Prom, Tribes Tours of Galway, Pedal Power Galway, and Ireland's Smallest Comedy Club.
This hotel is an excellent choice for History lovers, couples on romantic getaways, and those looking for an authentic Irish castle experience.
Available Facilities: Free parking, Restaurant and bar, Babysitting services, Banquet room, and Pet-friendly accommodations.
Review from a Guest: "Unique experience. You are stepping into the 15th century, it's real. A place of history." – Tatiana & Niall, Galway, Ireland.
⚠️ Expertise and Transparency – Our Review and Ranking Process: At HeyDublin, we are committed to providing comprehensive, trustworthy, and unbiased reviews. Our review and ranking process involves extensive research, testing, and verification by our team of experts.
Learn more about our review and ranking process.
My Final Thoughts on Best Castle Hotels in Ireland
In my view, the best castle hotels in Ireland are pure magic! They showcase Irish heritage beautifully while providing luxury accommodation. Nestled amidst scenic locations, these medieval castles offer unique experiences that simply can't be replicated. I adore soaking in the rich history from within these stunning historical sites located deep within the captivating Irish countryside. The delightful mix of old-world charm and modern comforts is truly distinctive to staying in castle hotels. From me to you, may your visit to these magnificent castles etch memorable imprints on your heart forever – much like it has done on mine!
FAQs about Best Castle Hotels in Ireland
What Are Some of the Top Castle Hotels in Ireland for 2023?
I recently took a deep dive into the most luxurious and historical castle hotels in Ireland on Tripadvisor. Based on traveler reviews and ratings, the crème de la crème includes Luttrellstown Castle Resort, Blackwater Castle. Each of these offers a unique blend of ancient charm and modern comfort, ensuring that your stay is both regal and comfortable.
How Does Staying in Luttrellstown Castle Resort Feel?
Staying at Luttrellstown Castle Resort is like taking a journey back in time. I remember how awestruck I was by the castle's sheer beauty. And the highlight? Getting a free tour of the castle and stepping into the Queen Victoria room where the queen herself once stayed. It's breathtakingly beautiful and an experience I'd highly recommend.
Can I Host Events at the Blackwater Castle?
Absolutely! I was amazed to read a review by Claire K who mentioned hosting an incredible hen weekend at Blackwater Castle with 47 guests. They even had the entire castle to themselves. Imagine having multiple social areas, a dance floor, and a bar at your disposal in a castle setting! Truly, a setting fit for royalty.
Are There Any Unique Features at Cloonacauneen Castle?
Cloonacauneen Castle is a historical gem. In fact, there's a video of this castle on the YouTube channel 'Celtic Spirit of Ireland'. It beautifully captures the essence and unique treasures of the past that this castle has preserved over the years.
How Do the Prices of Castle Hotels in Ireland Vary?
The prices can vary based on the castle, the type of room, and the time of year. While I couldn't list every single price here, Tripadvisor offers an easy way to check prices by simply entering your desired dates. This way, you can get the most accurate and up-to-date prices for your stay.
Where Else Can I Find Quality Accommodations in Ireland?
While castle hotels offer a unique and regal experience, Ireland has a plethora of other accommodations to choose from. I've noticed hotels like Clontarf Castle Hotel, The Grafton Hotel, and The Mont which are highly recommended by travelers. Whether you prefer the charm of an old castle or the modern comforts of a city hotel, Ireland has something for every traveller's taste.
🙋‍♂️ Are we missing something?
💁‍♀️ Want to be featured here?
📣 Local Insider Tips: Plan Your Dream Trip to Dublin with Our Guide!
👉 What's the Best Way to Get Around Dublin and Ireland?
By Car – We're a big fan of renting a car and driving ourselves while touring the island. It allows us to see attractions at our own pace outside the city centre too. We find the best rental deals through Discover Cars. (Read more)
👉 Where Can I Book a Place to Stay in Dublin?
Maybe – For hotels, we recommend Booking.com to compare places. If you are looking for a vacation rental, VRBO is a top choice. We advise reading reviews carefully before booking. (Read more)
👉 Which Site Finds the Cheapest Dublin Flights?
Check out Expedia first when booking airfare. Setting up price alerts is an easy way to grab deals when fares drop. (Read more)
👉 What's the Best Way to Get from the Airport to Dublin City Centre?
By Bus – The Aircoach bus is an affordable and convenient option. Taxis are readily available as well. (Read more)
👉 What Are Some Recommended Attractions in And near Dublin?
Dublin, located along Ireland's east coast, offers several nearby attractions worth exploring. The Giants Causeway, Cliffs of Moher, Galway and Belfast are all accessible with a short drive or flight.