Planning a romantic getaway to Belfast with your better half and wondering where to stay? Let me introduce you to some of the best hotels for couples in Belfast. Immerse yourself in luxury accommodations, opt for charming boutique hotels or simply enjoy couple-friendly spaces that define comfort and privacy. Each hotel has its own distinct character and charm, perfect for creating those unforgettable memories.
With an array of options from elegant suites overlooking the bustling cityscape, to cosy hideaway spots offering tranquillity; romance will definitely be brewing! Uncover hidden gems at every corner as I guide you on this journey through cherishing moments within these walls.
Now tell me, how does cuddling up amidst a backdrop of classic elegance while tasting world-class cuisine sound? Quite dreamy right? Well then hold onto that thought as we dive into exploring these love-nests across Belfast. So, ready to find your ideal romantic hotel in Belfast?
Disclosure: We partake in select partnerships, enabling us to benefit from some purchases you make via our provided links. This comes at no extra charge to you, and we value your continued patronage! 👏😀 Accommodation prices and availability may vary. Some options may not be available for your chosen dates. Thanks for your understanding and support! 🌟🙌
💁‍♀️ In a Hurry? My Top Picks for Best Hotels for Couples in Belfast
I Discovered Belfast's Most Enchanting Hotels for Couples – Prepare to be Swept off Your Feet!
⭐️ Rating: 8.5/10 | 📍 Location: Belfast City Centre | 👉 View on Booking.com
Situated adjacent to The Waterfront Hall convention centre, Hilton Belfast boasts an unmatched location overlooking the picturesque River Lagan. Known for its spacious rooms with marble bathrooms and striking views of the city, river, or mountain, this 4-star hotel offers luxurious amenities. Couples particularly applaud the location, deeming it perfect for romantic getaways.

During my stay at Hilton Belfast, I was truly mesmerised by the riverfront vistas from the floor-to-ceiling windows of the Sonoma Bar and Grill. My evening was well spent savouring Irish lamb, and later, I unwound at the No.4 bar, delighting in their array of award-winning gins. Waking up to the serene views of the River Lagan was an absolute treat, and a romantic stroll to nearby St George's Market made for the perfect morning. Did you know that the restaurant's design is inspired by the Titanic and Giants Causeway? It's all in the details that make this hotel exceptional!
Encouragingly, you won't know the true magic of Hilton Belfast until you're there, soaking in the views with your loved one. Secure your spot for an unforgettable romantic escape in the heart of Belfast!
The hotel is close to the Belfast Waterfront Convention Centre, Odyssey Arena, Belfast Cathedral, St Georges Market, Victoria Square, and Belfast City Hall.
This hotel is an excellent choice for Couples seeking a romantic getaway in the city centre with panoramic views and impeccable service.
Available Facilities: On-site parking, Fitness centre, Free WiFi, 24-hour front desk, and Two upscale restaurants.
Review from a Guest: "Great location, typical clean, quiet and comfortable Hilton Hotel" – Pete, United Kingdom.
⭐️ Rating: 9.3/10 | 📍 Location: Botanic Avenue, Belfast | 👉 View on Booking.com
Tara Lodge is a jewel in the bohemian Queen's Quarter of Belfast, a short stroll from the city centre. Celebrated for its chic, modern bedrooms and genuine hospitality, Tara Lodge is perfect for those seeking both style and comfort. The attention to detail ensures every guest enjoys a unique experience, while its prime location offers proximity to an array of restaurants and bars. Add free on-site parking and sumptuous breakfast offerings, and it's clear why Tara Lodge stands out for couples.
During my stay at Tara Lodge, I was immediately captivated by the warm reception and the ambient atmosphere that felt both luxurious and homely. Each morning, I was greeted with an array of breakfast options, from creamy porridge to a hearty Full English. The short walk to the heart of Belfast made my explorations effortless, while returning to the hotel always felt like coming back to a serene sanctuary. Did I mention the bed? It was like sleeping on a cloud, the perfect end to our city adventures. Ever thought about how a perfect morning feels like in Belfast? Tara Lodge knows the answer.
Discovering Tara Lodge is like unearthing a hidden gem in Belfast. Eager for a romantic escapade or a cultural adventure? Look no further. Every moment spent here feels like a love letter to the city itself.
The hotel is close to Queens University Belfast, City Centre, and a vibrant array of restaurants and bars.
This hotel is an excellent choice for Couples seeking a romantic getaway, business travellers, and culture enthusiasts.
Available Facilities: Free parking, Free WiFi, Non-smoking rooms, 24-hour front desk, Tea/coffee maker in all rooms.
Review from a Guest: "Friendly, welcoming and knowledgeable staff, a really nice room and an excellent breakfast. Also nearby to Queens University Belfast and the City Centre." – Jon, United Kingdom.
⭐️ Rating: 8.6/10 | 📍 Location: Belfast City Centre | 👉 View on Booking.com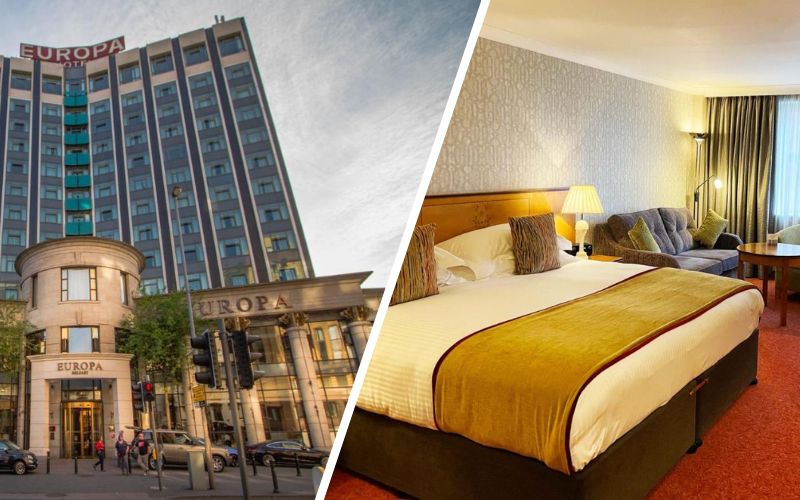 In the pulsating heart of Belfast, the 4-star Europa Hotel boasts an unparalleled location right next to the Great Victoria Street Railway Station. Delight in luxury rooms, dine in a contemporary bistro and relish the complimentary Wi-Fi that graces all public areas. Famed for its sumptuous bedding from Ralph Lauren and modern bathrooms adorned with glass and chrome, it's a hotspot for couples seeking a romantic retreat in Belfast.

During my stay at the Europa Hotel, every waking moment was a symphony of luxury and comfort. I was especially charmed by the Piano Bar, with its breathtaking views of Great Victoria Street and a delightful array of cocktails. The location? Oh, it's an absolute treat for couples! Being situated on Belfast's renowned Golden Mile, right opposite the historic Crown Bar, and just a stone's throw from the Grand Opera House, made our stay all the more enchanting. And let's talk about that bedding! Drifting into dreams wrapped in designer fabrics after a day of exploring the city was just divine. And did I mention the breakfast? A hearty English/Irish spread that had me eagerly setting an early alarm. Wondering where to find this treasure in Belfast? Look no further!

Delay no more! Dive into a romantic escapade and experience all the luxurious offerings of the Europa Hotel. Remember, sometimes the best adventures start with where you stay.
The hotel is close to the Grand Opera House, Crown Bar (National Trust's only public house), Castle Court shopping centre, and Victoria Square shopping centre.
This hotel is an excellent choice for Couples seeking a romantic city-centre retreat, luxury lovers, and cultural aficionados.
Available Facilities: Free WiFi, Restaurant, 24-hour front desk, Bar, and Room service.
Review from a Guest: "Hotel was fabulous, food was great, location was brilliant and the staff were out of this world." – Colette, United Kingdom.
⭐️ Rating: 9.2/10 | 📍 Location: Belfast City Centre | 👉 View on Booking.com
Situated in the heart of Belfast's Cathedral Quarter, The 5 AA Red Star Merchant Hotel exemplifies luxury and elegance. Offering air-conditioned rooms adorned with original artwork, this Grade I Listed building, dating back to 1860, combines historical charm with modern amenities. For couples seeking a romantic retreat, its ideal location, opulent interiors, and high-quality services like the rooftop spa make it one of the best choices in Belfast.
During my stay at The Merchant Hotel, I felt wrapped in luxury. Waking up beneath the soft embrace of their plush bedding was sheer bliss. But the real highlight? The rooftop hot tub. Gazing over Belfast's skyline, warm bubbles surrounded us, it felt like a scene straight out of a romance novel. I'll never forget the evening I spent at Berts Jazz Bar – live music, an intimate atmosphere, and exquisite cocktails, it was the perfect date night. And oh, the breakfast! Whether you're into a hearty English or a vegan spread, they've got you covered. Ever wondered where you can find a grand room with a domed ceiling for your afternoon tea? Look no further.
Honestly, if you've yet to experience the luxury of The Merchant Hotel, you're in for an unparalleled treat. Couples, prepare to be wowed and whisked away into a world of opulence and romance.
The hotel is close to: The Cathedral Quarter, various art galleries, and historic Belfast attractions.
This hotel is an excellent choice for Couples seeking a luxurious romantic getaway in the heart of Belfast.
Available Facilities: Free Wi-Fi, rooftop gymnasium and hot tub, spa, wellness centre, and a variety of bars including Berts Jazz Bar.
Review from a Guest: "Beautiful hotel with really grand, stylish bar and restaurant. The beds were so comfortable. Best night's sleep I've had in ages!" – Claire, United Kingdom.
⭐️ Rating: 9.2/10 | 📍 Location: Belfast City Centre | 👉 View on Booking.com
The Leonardo Hotel Belfast, previously known as Jurys Inn, stands as a beacon for couples looking for a perfect Belfast retreat. Located right next to the illustrious City Hall and Opera House, this hotel boasts spacious rooms replete with flat-screen TVs and dreamy beds. Delight in a modern international menu at the restaurant, relish a buffet breakfast and make the most of being a stone's throw away from the heart of the city's shopping districts.

Oh, what a treat the Leonardo Hotel Belfast was for me! Just imagine waking up, drawing the curtains, and having the iconic City Hall and Opera House greet you. The beds? A dream. Literally, they call them 'Dream beds', and trust me, they live up to the name. My mornings started right with their lavish buffet breakfast. Fresh pastries, hot breakfast items, and just the right touch of healthy alternatives. And the location? Absolute perfection for those spontaneous evening walks. The highlight of my stay was probably the views from my room. Taking in the city lights while cuddling up in those soft, crisp white linens made every moment unforgettable. Fancy a midnight snack or a romantic dinner? The hotel's restaurant offers a delightful spread. Wondering where to go next or which city attractions to explore?

Believe me, every romantic escapade is a little more magical at the Leonardo Hotel Belfast. Every couple deserves that enchantment. So, why wait? Dive into the romance and see for yourself the wonders this hotel offers.
The hotel is close to Belfast's City Hall, Opera House, Donegall Place, Castlecourt, and Victoria Square.
This hotel is an excellent choice for Couples seeking a romantic getaway in the heart of Belfast.
Available Facilities: Free WiFi, 24-hour front desk, restaurant, room service, facilities for disabled guests.
Review from a Guest: "Perfect location in Central Belfast. Lots of things to see/do within walking distance. Good public transport links." – Mary, United Kingdom.
⚠️ Expertise and Transparency – Our Review and Ranking Process: At HeyDublin, we are committed to providing comprehensive, trustworthy, and unbiased reviews. Our review and ranking process involves extensive research, testing, and verification by our team of experts.
Learn more about our review and ranking process.
My Final Thoughts on Best Hotels for Couples in Belfast
In my earnest opinion, the best hotels for couples in Belfast truly offer an oasis of romance and luxury. These boutique and couple-friendly hotels encapsulate genuine Irish charm punctuated by heartwarming hospitality. Savouring this city's magic from these romantic getaways reinforces the bonds of love while encapsulating moments that become lovely keepsakes from your journey. If you are like me, drawn to delicate delights and wonderment with your significant other, then Belfast's luxury accommodations will enhance every minute spent here. And so, I am left hoping that these pieces of wisdom stir your spirit for boundless enjoyment as they have done mine.
FAQs about Best Hotels for Couples in Belfast
What Are the Best Romantic Hotels for Couples in Belfast?
Having had the pleasure to experience Belfast's hospitality firsthand, I'd confidently recommend the Hilton Belfast, Tara Lodge, and The Merchant Hotel as some of the top choices. They offer a perfect blend of luxury and intimacy ideal for couples.
How Do I Find Sustainable Hotel Options in Belfast?
While exploring Belfast, I was delighted to find that many hotels are eco-conscious. Look for properties labelled "Travel Sustainable Level 3+" on the Booking.com site. It's heartening to know that options like Europa Hotel and Clayton Hotel Belfast are among those taking steps towards sustainability.
Are There Central Belfast Hotels Close to Major Landmarks?
Absolutely! I was spoilt for choice during my stay. Hotels like Europa Hotel and The Fitzwilliam Hotel Belfast are just a stone's throw away from Great Victoria Street Railway Station and the Grand Opera House. The convenience is unbeatable!
What Hotel Brands are Prominent in Belfast?
During my adventures in Belfast, I noticed some familiar names. Brands like Hilton Hotels & Resorts, Leonardo Hotels, Radisson Blu, and Malmaison have established their presence in the city. It felt like a touch of familiarity in a new city!
Is it Possible to Find Hotels with Fitness Centres in Belfast?
Yes, indeed! Keeping up with my fitness routine was a breeze. Hotels such as Hilton Belfast, Europa Hotel, and Clayton Hotel Belfast have modern fitness centres to help guests like me stay active during their trips.
Are There Hotels in Belfast's Queens Quarter?
I loved staying in the Queen's Quarter. It's a bohemian part of Belfast and houses gems like Tara Lodge and The 1852 Hotel – Self Check-in. A mere 10-minute walk and you're in the city centre. Perfect for those who seek a mix of quiet and city vibes.
Do Belfast Hotels Offer Free Wi-Fi and Other Modern Amenities?
Certainly! Almost every hotel I checked out, including Titanic Hotel Belfast and Bullitt Hotel, provided free Wi-Fi. Many also offer other amenities such as flat-screen TVs, modern restaurants, and even chic cocktail bars. Convenience meets luxury in Belfast!
🙋‍♂️ Are we missing something?
💁‍♀️ Want to be featured here?