Ever thought about diving into Dublin's artsy side? I recently did, and oh, what a colourful journey it was!
Dublin, renowned for its literature and history, hides many art secrets. Walking its streets, I felt like I was flipping through a vivid art book. One minute, I was in awe of the street art transforming alleyways into outdoor galleries, and the next, the pubs whispered stories of James Joyce over a frothy pint.
I recall the Dublin Street Art Walking Tour vividly. The splash of colours, the bold statements, and the creative energy—it's like the city's very soul was painted on those walls! On one corner, there was a mural so striking, it gave me chills.
Then there's the Literary Pub Crawl. A mix of literature, history, and yes, some delicious Irish brews. I'll never forget the joy of quoting Yeats in one breath and then toasting to his genius with a cold one in the next.
And for those moments when I wanted to tap my feet, the Musical Tour of Dublin hit just the right note. It wasn't just about listening to tales but living them, dancing in the streets as Dublin's history sang to me.
But, I digress. If you're passionate about art, history, or even just curious, Dublin has something for you. Which tour would ignite your artistic soul?
Disclosure: We partake in select partnerships, enabling us to benefit from some purchases you make via our provided links. This comes at no extra charge to you, and we value your continued patronage! 👏😀 Accommodation prices and availability may vary. Some options may not be available for your chosen dates. Thanks for your understanding and support! 🌟🙌
💁‍♀️ In a Hurry? My Top Picks for Best Art Tours in Dublin
My Unforgettable Journey: Exploring the Artistic Heartbeat of Dublin
⭐️ Rating: 5.0/5 (56 Reviews) | 📍 Location: County Dublin, Ireland | 👉 Check Availability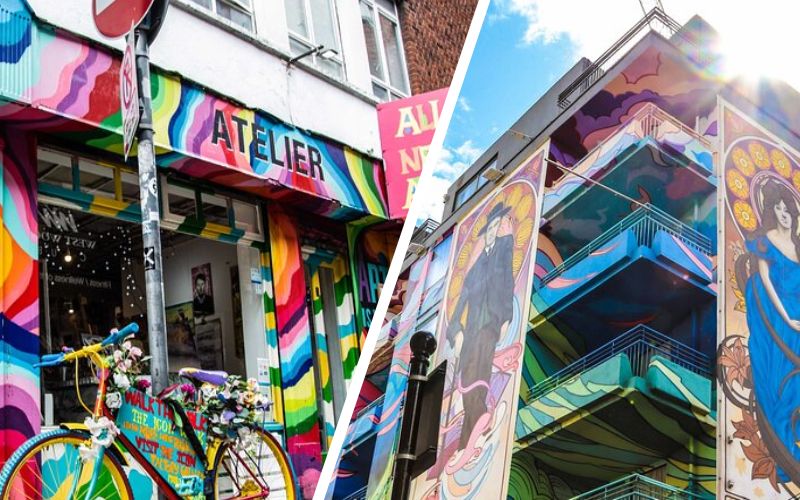 Dive into Dublin's Vibrant Streets!
Discover Dublin's thriving street art scene with this captivating walking tour. Wander off the beaten track and uncover the city's lesser-known side, filled with vibrant murals, graffiti, and tales of the artists behind these creations. Embark on a technicolour journey, guided by a local, through Dublin's side streets and feel the city's modern pulse.
My Vibrant Day Out in Dublin
I was genuinely taken aback by the explosion of colours and stories painted on Dublin's walls. Every turn felt like walking into an open-air gallery. The excitement started at the easy-to-find meetup spot in front of Dublin's Grand Social Bar. Our guide was an endless source of information, not just about the art but also little snippets of Dublin that I'd never known. While the highlight was the art in Temple Bar, strolling through Dublin's side streets was an experience in itself. The 25-minute walk from the starting point to the end at the Olympia Theatre was barely noticeable as I was engrossed in the stories and the visual feast. And to think I'd have missed this if I'd just stuck to the usual tourist spots! Oh, and the insider tip? Don't forget to wear your comfiest shoes; there's quite a bit to explore!
Discover the Dublin Few Get to See
Ready to unearth the secrets behind Dublin's walls? With every painted story, you'll fall in love with the city even more. Unveil these vibrant tales and see Dublin in a new light.
Key Tour Details
| Feature | Details |
| --- | --- |
| Price | From €14.00 |
| Duration | 1 to 2 hours |
| Language | Offered in English |
| Start Time | 02:00 p.m. |
| Meeting Point | 37 Liffey St. Lower, North City, Dublin, Ireland |
| End Point | 3Olympia Theatre, 72 Dame St, Dublin |
Exclusive Insights from My Day Out
The side streets are as captivating as the main art spots, so keep your eyes peeled!
Interact with the locals; they sometimes have their own stories about the artwork.
Plan some extra time after the tour. With the endpoint near Temple Bar, you might want to explore more.
Keep your camera charged; every mural is a perfect photo op!
What Others Say: "Peadar was a wonderful tour guide – I would highly recommend this tour. I'll definitely do it again to see the new pieces." – Naoimi_G, Ireland
⭐️ Rating: 5.0/5 (42 Reviews) | 📍 Location: Dublin, Ireland | 👉 Check Availability
A Glimpse into Dublin's Dark Side
Delve into the heart of Dublin and uncover its darkest secrets. Walk the city streets and hear tales of kidnappings, art heists, and notorious murders. On the Dublin True Crime Tour, you'll witness the city's history come alive, not in its heroes, but in its villains and their infamous deeds. Every cobblestone and corner holds a story, and this tour ensures you hear the most spine-tingling ones.
A Walk to Remember
Walking the streets of Dublin has always been a delight, but this tour took things to another level for me. I mean, standing outside a historic building and hearing about a famous robbery that took place there? Incredible! Our guide had a talent for weaving stories so well; that it felt like I was watching a thriller unfold. In Temple Bar, we started at College Green, and oh, the secrets that tree outside Starbucks holds! By the time we reached St Michan's Church, I was a mix of awe and eerie chills. And who would've thought? That little alley, where I once grabbed a quick coffee, was the scene of a chilling crime. Even now, as I type this, I still get goosebumps! But let me ask you, ever wondered how Dublin's historic buildings looked under the cloak of mystery? Because trust me, once you've heard these tales, you'll never see them the same way again.
Don't Wait, Dive In!
Dublin is whispering its secrets, are you ready to listen? Delve deep, unravel mysteries and let this city's tales engulf you. The Dublin True Crime Tour is more than a journey; it's an experience you'll carry with you forever.
Key Details
| Feature | Information |
| --- | --- |
| Price | From €14.00 |
| Duration | 2 hours |
| Language | Offered in: English |
| Start Point | 1 College Green, Temple Bar, Dublin |
| End Point | St Michan's Church, Dublin |
Exclusive Insights from My Personal Journey
Always wear comfortable shoes; there's a lot of ground to cover.
Listen closely; some tales have little-known facts and hidden mysteries.
Chat with the guide post-tour; they have a trove of bonus stories.
Snap pictures, but always with respect to the history and stories.
Guest's Voice: "Highly entertaining! Our guide had us enthralled with his stories. It was a beautiful walk around town. We learned so much at each of the sites. It was good fun! Would definitely recommend." – Naomi_B, United Kingdom
My Final Thoughts on Best Art Tours in Dublin
In my wanderings through Dublin, I've been captivated by the city's thriving artistic spirit. From the vibrant street art murals to the literary tales echoing from the ancient pubs, Dublin is a canvas painted with history, culture, and creativity. The art tours resonate deeply with my soul, letting me dive into a world of imagination and passion. Walking these streets, I've felt a connection to the city's artistic legacy. To anyone who cherishes art as I do, I can't help but recommend taking a moment to truly experience Dublin's artistic heartbeat – it's a journey you won't forget.
FAQs about Best Art Tours in Dublin
How did Dublin's art scene influence its history?
Throughout the years, I've observed that Dublin's rich art culture has been pivotal in shaping its history. From literary giants to contemporary muralists, artists have always been the voice of Dublin.
What can I expect from a Dublin Literary Pub Crawl?
I personally enjoyed the Literary Pub Crawl as it marries Dublin's pub culture with its literary history. You'll explore sites that inspired famous writers, all while sipping on locally brewed ales.
Why should I consider the Dublin Street Art Walking Tour?
In my experience, this tour showcases a lesser-known side of Dublin. You'll explore vibrant street art, learn about the artists, and get a unique perspective on the city.
Is there a tour that combines Dublin's music and art?
Yes, I loved the Musical Tour of Dublin. It takes you through the city's history using street songs and folk ballads, creating a lively ambience.
What's the essence of the Dublin True Crime Tour?
On this walking tour, I was engrossed by the tales of crimes from Dublin's past. It's a mix of history and mystery that gives a different shade to the city's chronicles.
Is the Book of Kells worth the visit?
From my visits, the Book of Kells, housed in Trinity College Library, is an ancient treasure that offers insight into medieval Ireland and should definitely be on your must-see list.
How long are most art tours in Dublin?
Most of the art tours I've joined range from 1 to 4 hours, allowing enough time to immerse oneself in the beauty and history without feeling rushed.
🙋‍♂️ Are we missing something?
💁‍♀️ Want to be featured here?
📣 Local Insider Tips: Plan Your Dream Trip to Dublin with Our Guide!
👉 What's the Best Way to Get Around Dublin and Ireland?
By Car – We're a big fan of renting a car and driving ourselves while touring the island. It allows us to see attractions at our own pace outside the city centre too. We find the best rental deals through Discover Cars. (Read more)
👉 Where Can I Book a Place to Stay in Dublin?
Maybe – For hotels, we recommend Booking.com to compare places. If you are looking for a vacation rental, VRBO is a top choice. We advise reading reviews carefully before booking. (Read more)
👉 Which Site Finds the Cheapest Dublin Flights?
Check out Expedia first when booking airfare. Setting up price alerts is an easy way to grab deals when fares drop. (Read more)
👉 What's the Best Way to Get from the Airport to Dublin City Centre?
By Bus – The Dublin Express Bus is an affordable and convenient option. Taxis are readily available as well. (Read more)
Private Transfer – Travel to and from Dublin Airport in style and comfort with a private luxury van or minibus transfer. Skip the taxi queues and enjoy a personalized meet-and-greet service, ensuring a smooth start or end to your Dublin adventure! (Read More)
👉 Is There a City Pass to Access Multiple Dublin Attractions?
Absolutely – The Go City All-Inclusive Pass is your ticket to over 40 top attractions in Dublin. It includes spots like the Guinness Storehouse, Dublin hop-on hop-off bus tours, Christchurch Cathedral, and many more. (Read more)
👉 What Are Some Recommended Attractions in And near Dublin?
Dublin, located along Ireland's east coast, offers several nearby attractions worth exploring. The Giants Causeway, Cliffs of Moher, Galway, and Belfast are all accessible by a short drive or flight. (Read More)